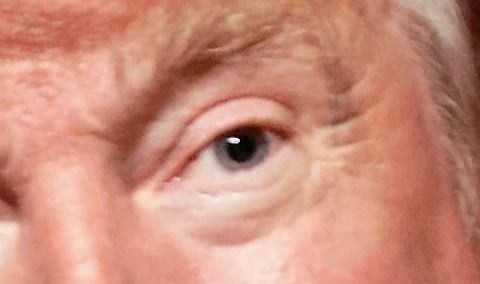 Well, I thought the elections in the US are over, and we are in for some quiet times. The Democratic party pretty much lost everything, The house, the Senate and the Presidency. I am quite sure, if anything else was up for grabs, they would have lost it too. I have found a plethora of opinions and studies about why this happened, and I did like some of them, didn't like others. And the opinions may well vary about them, but i do think the simplest answers are the best once in this case. After eight years of near stalemate, dictated and enforced by the republicans just you know, people wanted change, and frankly Hillary was not about change. She was all about the status quo, steady as she goes, she even failed to recognize the ever looming threat of Islamic terrorism and the dangers posed by the budding Islamic State .. yes, ISIS, just like her predecessor, whom she served as a secretary of state. I don't think it mattered that she was a woman, I heard no opinion or argument in this regard during the entire election cycle, and it was a long and painful one. But the fact that she refused to acknowledge the issue and present a viable, or any for that matter, strategy in that regard did lose her a lot of votes. The behaviour of the Democratic party, heavily favouring Hillary over Bernie was also a severe setback for her chances against Trump, in my opinion, it was a major blunder from the Democratic party. The Democratic party could have saved some the losses, and maybe even score a win against the Trump, if they had gone with a Hillary Bernie ticket, but, alas, even that eluded them. Then we had all the self inflicted e-mail server issues, the contents of said e-mail server and all the useless mongering around that. It was a serious blunder from Hillary to run a private e-mail server and use it as a secretary of state e-mail server, she should have known better. It did effect her image as a competent states person who takes national security seriously, and I am sure it lost her some votes too. In short, I didn't like Hillary, and frankly I find very few of my friends and social circle who did, on the flip side, nearly all my friends and social circle say they liked Bernie, and I did like him too. And the blunder of not having Bernie in the Democratic party ticket rest fully upon the shoulders of the Democratic party and it's leadership. And in the last seconds of the disaster, the polls mistakenly indicated that Hillary has this in the bag, practically every poll in the last few days leading up to the elections got it wrong, they all indicated a Hillary victory, and I would like to see your take on that in the comment section, I have some ideas, but I am not sure I am on the right track with this poll issue.
In short, this election result, tho resulting in a Trump presidency, was not a Trump win, sure he didn't win the popular vote, which is an arguable claim that Hillary won that, since most of the popular vote came from one state that traditionally voted Democratic no matter what, This result was more of a Hillary and Democratic party loss. Hillary lost because people just didn't show up to vote for her, except that one state which did. On the trump side, he got the vote out, uniformly from those who would vote Republican no matter what, and from those new voter categories that normally would not vote Republican, but did this time anyway, not because they liked trump, but because the didn't like Hillary. 35% of white women voted for Trump, that would not have happened if Hillary had any appeal to women, evidently she didn't, disgruntled workers of the auto industry, seeing their jobs evaporate with no hope of seeing them back clearly liked Trump's message way better, tho Trump was vague and unspecific, he did say enough to get the vote out on these issues.
And then we approach the transitioning period, and the horror that is the Trump presidency started to take shape. Trump filled his cabinet with every bigot, Christian right winger, White supremacist,  Christian Dominionist and pro Russian business mogul he could lay his hands on. He even picked an openly fascist supreme court judge, still pending approval, but the Republicans will steamroll him just fine.  I am positive nearly no one expected the Trump cabinet to look like this.
I am writing this 15 days into the trump administration, and these where the worst 15 days of my life, seeing a country with a secular constitution and a refined system of checks and balances devolve into a raging theocracy, and i am sure, no one alive could have imagined the US devolving into a raging theocracy so fast, and so drastically. I don't have any idea how this can chance, and I don't see any light at the end of this tunnel.
I am afraid of the future, and you should be too.